Udruga proizvođača rakije iz voća – UPRIV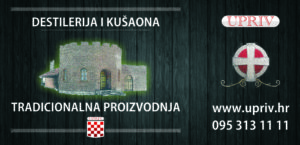 Udruga proizvođača rakije iz voća – UPRIV
099/2122-547
Quality is our highest requirement. Our brandy is burned exclusively from healthy, mature fruits. This principle, which is one of the guidelines of our house, has however as a consequence that the quantity, which we can offer to you is limited.
The sorted apricot is washed, cut up and converted to the pulp. This then goes into dark cellars and it is kept fermented under the controlled temperature. Distillation takes place in copper boilers using the traditional prescription. The quality of the won distillate is examined in regular chemical analyses. The distillate is stored for two years long period at the time with constant control in dark and cool areas – until it has reached the certain degree of the quality, which becomes fair to an excellent fruit liquor up to the standard within your requirements.
Apricot of highest quality and from our own cultivation of fruit, which obligates tradition and experience of many years – that is the success prescription of our products of liquor, whose singular ness we does not want to hide behind high alcohol degrees.
We offer to you instead of it's a crystal-clear fruit brandy with an unmistakable Fruit bouquet.