SANDI – INVENT Ltd.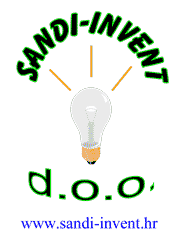 SANDI – INVENT Ltd.
051/412-233
051/412-233
The SANDI – INVENT Ltd. company (ID 1834398; Tax ID 89285448602) was founded in January 2002 firstly as a trade and expanded in 2006 as Ltd. for commerce and services. It is registered for testing and experimental developing in natural, technical and technological sciences, for representing domestic and foreign companies and for body care services.
The current founder, owner and manager is mr.sc. Aleksandar Stošić dr.med. The company focuses on innovative products and on body care services by manual medicine. We have so far copyrighted for intellectual property three designs and a logo. We manufacture and market our innovative product SAND-y NATURAL WALKER ® copyrighted for intellectual property in the US.
Our innovations won multiple awards at international innovation expos with SAND-y NATURAL WALKER ® winning a golden medal and a special diploma at the EUREKA 2001 in Brussels.