Fisheries Poljana Ltd.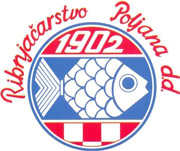 Fisheries Poljana Ltd.
034/431-012
034/431-122
Fisheries Poljana is a significant Croatian producer of freshwater fish in this part of Europe. The company was founded in 1902.
Fisheries Poljana has a century-old long tradition of fish production, developing its name and brand despite political and economical changes. In 1993, it restructures into a limited company.
We produce healthy quality natural fish. By basing the production technology on a century-old long tradition we preserve the balance in the ecosystem and produce top quality fish.
Fisheries Poljana is located in the West Slavonia region. It is built on the Ilova river middle stream's left river bank, expanding over 1300 ha of land.
The company does freshwater fish breeding left of the Sava and Drava rivers. The production predominately includes Mirror carp, Scaled carp, Grass carp, Bighead, Silver carp, Wells (european) catfish, Pike-perch, Pike, Brown bullhead, Tench, Crucian carp and European eel.
On the breeding areas suited for all breeds of freshwater fish currently 1100 t of fish is being produced.
The production of mirror carp entails about 90% of total fish production. Around 1800 t of fish feed, predominately crops from Croatian plantations, is used. Organic manure and natural disinfection is applied in land maintainance.
The company has 48 employees and disposes with its own infrastructure: breeding area, fish feed mixing facility, large warehouse storage, road and transportation infrastructure.
The geographical area and the location far from large industrial centres, highways and other polluters is favourable for ecological fish production, a sought product on the domestic and the European market.