Daruvar Brewery Ltd.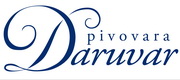 Daruvar Brewery Ltd.
043/631-166
043/331-351
Daruvar Brewery was founded in 1840. The only brewery outside of the Czech Republic, which produces beer according to traditional Czech technology, which makes it unique in the region. Its production Brewery Daruvar is based on the traditional way of brewing, on the soft natural spring water from the slopes of Nature Park Papuk and Croatian quality raw materials without additives or preservatives.
The brewery is located in the centre of Daruvar in the middle of continental Croatia, surrounded by slopes of Papuk. In June 2010 Brewery Daruvar becomes part of the Kufner Group Ltd. (www.kufner-grupa.com).
Mission of the Brewery Daruvar Ltd. is to preserve the tradition of technology, original recipes and the quality of its products that is carried out for the past 170 years. Based on this, its customers ensures a high level of quality beer, using in the production the original Croatian products and raw materials. To achieve its mission, Brewery is extremely careful to preserve the environment in accordance with current regulations and international standards. In cooperation with the local community and the city and the Tourist Board Daruvar, Daruvar Brewery Ltd. participates in the development and promotion of tradition and culture of the region.