Bakery Latica Ltd.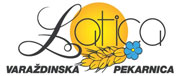 Bakery Latica Ltd.
042/399-901
042/214-677
Bakery Latica is located in Jalkovečka bb since 1969. From then until now several times owners and names have been changed. The latest name gets by joining the business system Vindija in 1995.
The quality of its products is achieved by selecting the high-quality raw materials, careful work, knowledge and continuous investment. In Latica is produced 10 tons of products per day, or 3.300 tons of bakery products a year. The assortment comprises 80 daily fresh products, several multi-day products, the two permanent product (crumbs and mlinci) and frozen products for baking at the point of sale. The capacity of production of bread is 960-1400 pcs/h. The infrastructure of Latica, along a production part with the administration building, is the silos and the energy part with the boiler room and compressor station and a transformer station.
In early 2002, Latica has certified its quality system by international standard ISO 9001. For 2007 it is planned certification of HACCP guidelines by the Codex Alimentarius, which will confirm the safety of bakery products in the production facility.