Karolina Ltd.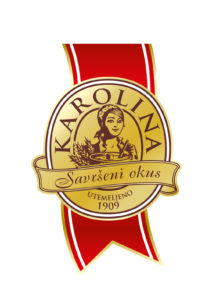 Karolina Ltd.
031/512-601
031/512-673
In late 1909 in Osijek began the story of Karolina. Since then and until the present day, Karolina the factory of biscuits, wafers and saltwort has developed its production following the demanding standards of confectionery industry and also offers and places new demands for the market by its innovations.
During its long history the company has changed owners several times and therefore its names: Karolina, Sloboda, Lura-keksi, Karolina again (as a member of Lorenz Bahlsen Group) and finally since 2011 it has been a member of Kraš
Group. Continuing its tradition and following the existing values it started with a new cycle of development, which is now completed by the experiences of the largest confectionery manufacturer in the region – Kraš Inc.
The implementation of system measures at Karolina has resulted in certifiying according to HACCP and IFS norms. Through introduced high standards of quality, Karolina guarantees safety to its consumers with safe production, thus gaining the opportunity to enter the markets of the Western Europe and oversea countries.
By its rich tradition and recognizable brands for the consumers, brands Jadro and Moto have already for decades provided satisfaction to the consumers and guaranteed quality through a wide range of packaging types and original flavours. State-of-the-art technology, recipes, tradition, innovations and products quality are basic elements of development and production at Karolina which, along the fact that it is a part of Kraš Group, guarantees its existence and prosperity in the Croatian market but also spreading to other markets.