Dukat Inc.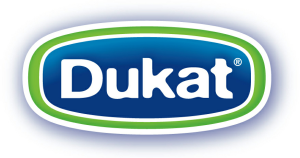 Dukat Inc.
01/2392-190
01/2392-260
With 14 production facilities in Croatia (Dukat dairy plants, Sirela and KIM dairy plant Karlovac), Bosnia and Herzegovina (Inmer dairy plant), Serbia (Somboled dairy plant), Macedonia (Ideal dairy plant) and Romania (LaDorna dairy with eight production plants), Dukat dairy industry has masterfully positioned itself as the leading Croatian and regional dairy company, making Dukat the leading domestic and regional brand of dairy products.
The backbone of the Dukat business philosophy are fresh, natural, healthy and nutritionally rich dairy products without preservatives, produced from domestic milk of the best quality.
In all the markets where it is present with its own production, Dukat dairy industry encourages the development of primary milk production in order to increase the quantity and quality of milk production through partnerships with the largest number of milk producers.
In Croatia only, Dukat dairy industry continuously cooperates with more than 12,250 milk producers and holds more than 43 percent of market share in milk purchase in Croatia. Dukat is the biggest buyer of raw milk in Croatia and its production is based exclusively on the locally produced milk of top quality.
Even though it only recently became part of the leading European and global dairy industry Lactalis Group (since May 2007), Dukat has for years, through the quality of its products, been right up there with the most renowned world milk, dairy product and cheese producers and brands.
Dukat annually offers its consumers dozens of new and innovative products, which are characterized by top quality, freshness, health and added value, flavour and awards and recognitions.
Dukat brands are regular winners of gold DLG medals for product quality and Superbrands awards, and in 2009, the umbrella brand Dukat was declared, for the third year in a row, the most reliable brand of dairy products in Croatia, according to the consumers.
In addition to the health safety and high quality which form the basis of quality management of food quality and safety; consumer satisfaction and meeting consumer requirements, as well as their expectations, are imperatives for Dukat.
The quality management system is implemented in accordance with ISO 9001. Sensitivity of the food industry, particularly the production of dairy products, is the reason for the continuous improvement of methods of control aimed at consumer protection and safety of products. Through the application of HACCP (Hazard Analysis and Critical Control Points) and meeting the requirements of ISO 22000, the food safety management system is implemented effectively, successfully satisfying the desires and needs of consumers from almost one hundred years.