DAM Ltd.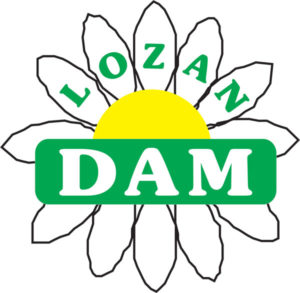 DAM Ltd.
033/716-428
033/800-847
Dam L.t.d. is familiy company based in Lozan, Ive Marinkovića 42, close to Virovitica, which builds and develops familiy Mareković since 18.03.1998., developing confidence, excellence, creativity and focus on development of production of medicinal herbs.
Company Dam L.t.d. produces medicinal herbs on controlled and secure manner, and which quality guarantee implemented quality systems HACCP, ISO 9001:2008, was introduced in 2008. and system GLOBAL G.A.P. was introduced in 2015. Except in Croatia company Dam L.t.d. being succesful at on foreign markets and 95% of production is oriented to exports. Production is extremly of high quality, allowing for exceptional export competitiveness, and 95% of revenue realized through exports processed herbs as raw material for the production of tea.
Our processing, company Dam L.t.d., have secure in two separated  processing section which are processed separately conventional chamomile and chamomile produced according to the principles of organic agriculture. Company develops a strategy of applying new tehnologies in production of medicinal herbs, oriented modernization of existing manufacturing processes and further development of the product according to customer requirements. On an annual basis the company in its processing 800 tons of chamomile.