COLAS Mineral Ltd.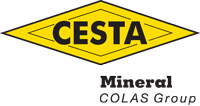 COLAS Mineral Ltd.
042/352-511
042/233-137
COLAS Mineral Ltd. is part of the international COLAS concern, a leader in civil engineering and production of aggregates, and it has been part of the COLAS Croatia Group since 2001.
COLAS Mineral is staffed with engineers, technicians and skilled workers with many years of experience specializing in the extraction, production and distribution of gravel, in the production and distribution of stone aggregate, concrete, cement stabilization, and selling gravel, aggregate and concrete to third parties at the two production sites: Hrastovljan and Puča. The gravel plant in Hrastovljan is located next to the Zagreb-Goričan motorway in the Varaždin area, offering customers a reliable and timely service in accordance with their needs and demands. Likewise, the Puča quarry is located next to the Zagreb-Split motorway in the Maslenica area providing a reliable supply of aggregates to customers in the Zadar and Lika-Senj Counties.
The relationship with customers, employees and the community in which it operates, as well as product quality, continuous improvement and expertise have been recognized and certified in accordance with international standards for quality management (ISO 9001: 2008), environmental management (ISO 14001: 2004) and Occupational Health and Safety (OHSAS 18001: 2007).