Bernarda Ltd.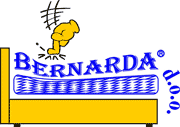 Bernarda Ltd.
040/ 895-300
040/895-333
The company began its work on today's location on 1 September 1998 in a rented facility. At the beginning, only 13 works worked in the company and produced only five types of beds for export in a lohn system. By recognising there is a missing link for this quality product in the Croatian market, the company began its own production.
In early 1999, the production of mattresses began, as well as working on the Croatian market, so that in that year, 30.39% of revenues out of total revenues were made on the Croatian market.
During 2000 and 2001, the company invested significant funds into extension of work and warehouse space (construction of warehouse of 600 m2). During 2001 and 2004, an injection of capital was made by entry of machines and production plants of the owner. In 2002, a new plant was opened in the adapted facility in which wooden elements are designed, processed and prepared and complete wooden frameworks are made for beds which until then, were being made in cooperation with others.
Today, the company owns production facilities in the surface of 1,350 m2, warehouse and handling area in the surface of 600 m2 and office facilities in the surface of 217 m2.
Currently, intensive activities are taking place at the company related to further development and investments. A new business and production facility in the surface of 1,580 m2 is being built (1,150 m2 of production facility and 215 m2 of exhibition facility and 215 m2 for offices). New production machines have also been purchased.
In 1998, the company produced 5 types of beds and today, it produces 11 types of beds, 28 types of mattresses and 12 types of other products with the tendency to extend its range of products. It currently employs 85 workers.
Production part of business operations is executed on modern machines (design, sawing, fuisng, pulling and upholstering) specific for such production. Experts of the company continually monitor technology and new materials developments in this niche and ensure its application in the society.
Quality of materials and finished products is an important development and business component of the company and special attention is given to it. The company constantly executes material control and the selection of suppliers depends on the quality of materials which they can deliver.
Before going to the market, all products are controlled and each product has an attestation issued by the Faculty of Forestry in Zagreb where testing of all products is made.
The company has introduced the international system of quality control ISO 9001:2000 which is an additional guarantee that quality products will go to the market.