Akord Ltd.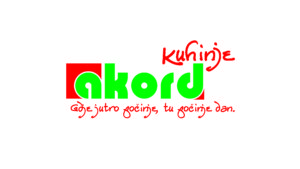 Akord Ltd.
032/830-348
032/830-347
The "AKORD" company exists since 1999. as a commercial craft which started the work in their own small shop, in a premises surface of modest 36 square meters.
Only employees were the owner and his girlfriend .
With high quality work and affordable quick service, we have quickly gained a reputation in the city and beyond.
With time we expanded workspace and hired new workers.  In January, 01. 2008. due to increased in volume of business, we have moved the store and the newly opened manufacture to the "AKORD" d.o.o. and thus justified acquired reputation.
At the end of 2011. we have opened a sales and furniture showroom, and in that manner have connected the production and offer.
Our small company specializes in trade, manufacturing, furniture design (kitchens, bedrooms and children's rooms, office furniture, tables and chairs, closets…) and service cutting of plywood plates. We are trying to present our customers with goods and services through professional presentation of our suppliers. Our visual identity is recognizable in the region and beyond.
Today, the company employs six professionals shop workers, two design consultants and five constructors in the production. We operate in Croatia, Germany, Austria, Bosnia and Herzegovina, Serbia etc…
Following global trends we continuously expand our supply in order to offer our customers the best shopping experience.
With education of our employees, monitoring and introduction of modern technologies, we continuously improve the quality of our services.
The foundation of our business are business relations based on mutual trust, honest cooperation, openness and friendship.
By recognizing your needs, we strive to acquire and preserve our good relationship with you and maintain your friendship.