Health beds – Salus mattresses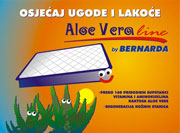 Good and calm sleep can be achieved with certain preconditions, so the emphasis is on the selection of materials for bed covers – matters and characteristics of these materials. Expert team of the company Bernarda Ltd. offers buyers new, fully elaborated range of products which satisfies even the most demanding sleeper. New collection of covers consists in nine products which individually and according to the wish of buyers may be put on a selected bed construction – Bernarda mattress. Depending on the needs of users and the intent in which bed system is used, buyers are offered covers which are extremely resistant to humidity, covers which reduce odours (for instance from cigarette smoke) and impact from bacteria, maggot or mosquito attack, covers with termoregulation, and protection from electro-magnetic radiation. In case of non-appropriate conditions during sleep, each of the said covers has the task to reduce negative impact and thus enable the user to have a calm and refreshing sleep.
This concerns the following lines of mattrases:
MIREA – MicroCare line
The line of these mattrases is characterised by the fabric which is replacing the former ACTIGARD antibacterial fabric which, in order to kill maggot, bacteria and fungi, was processed with harmful chemical PERMETRIN. ACTIGARD fabric has been replaced by MICROCARE fabric.
Molecules have been built into this new fabric which in touch with humidity and salts excreted by the sleeper's body, release oxygen which is very aggressive and which gets linked to fungi and bacteria and physically destroys them, and thus impedes the development of maggot.
VESPER – Anti-mosquito line
This line of mattresses is made of fabric which in its structure has built milliard of capsules of essential oils of citron and eucalyptus.
By pressure and rubbing of the body and fabric, capsules crack and release essential oils which repel mosquitoes by its scent.
GRAVIS – Silve line
Fabric for this line has 3% of silver in its line and as such, neutralises 65 – 85 % of all electromagnetic radiation. It is well known that in the past, water and food were kept in silver bowls so that foodstuff were preserved as long as possible, as it was well known then that silver has antibacterial properties, so this fabric has natural antibacterial properties.
ESTA – Kapok line
Extraordinary characteristic of this fabric is that due to the manufacture process, large number of molecules of air (80%) are captured in the structure of fabric which gives her the property of perfect termoregulation, i.e. it cools during summer and warms during winter.
The fabric for this line of matrass is elaborated from the fruit of plant KAPOK which has the finest fibre of plant origin, with specific weight which is 8 times less than cotton, so the fabric is very soft and pleasant to touch.
FLUMENA – Hydrofast line
Line of mattresses which in its composition has components which perfectly conduct air circulation so that humidity is quickly distributed from the mattress out and not to the structure of the mattress. As a result, the sleeper feels comfortable and rested and does not sleep in his own pool, so to speak. This line is specially recommended to persons who sweat too much.
MAGUS – Oxygen3 line
Oxygen3 line is characterised by the fabric which neutralises all scents and notably the scent of nicotine. Special molecules are built in the fabric which reacts in the contact with all odours in the room and exert an action on them, degrading them to oxygen, carbon dioxide, nitrogen and water.
NOVITAS – Fire Resistant line
Covers for this line of mattresses are made of fabric treated with special procedures which make it non-flammable. These are fabrics such as TREVIRA CS, and other non-flammable fabrics (British standard – Crib1, Crib 5).
Fabrics as well as other materials built in non-flammable mattresses are tested by authorised institutions and have non-flammable certificates.
LENIS – Aloe Vera line
Modern science has confirmed by recent research what has been known since ancient times that this plant has beneficial effects. By its properties, Aloe Vera has a regenerating effect on skin and at the same time, nourishes and renovates skin cells.
Having in mind that biologically natural and healthy property of materials must easily gain predominance over chemical synthesis, experts for elaboration of bed systems used the said insights on the characteristics of Aloe Vera.
ORIGO – Nautical line HK
Atmospheric and other conditions on a vessel are far more difficult than in apartments and houses. Therefore, this line includes quality mattresses of various forms, dimensions and hardness. Built-in material are resistant to humidity, temperature modifications, salt and other aggressive substances – notably transparent and durable (cold sponge – Kaltschaumm, tri-dimension textilia – Spaceflex..). With such mattrases elastic bases are offered in various forms and dimensions.