Vindija fresh milk 'z bregov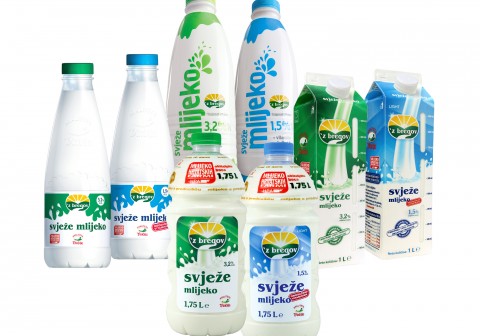 Wits its quality without compromise and with the help of 21st century technology, Vindija was the first in Croatia that produced milk in a bottle.
The most careful selection of raw material and systematic quality control according to the highest standards IS0 9001:2008 makes sure that milk retains the natural freshness of taste, nutritional value and flavor after the treatment. The separator of bacteria using the centrifugal force removes undesirable microorganisms from the milk, all the vitamins and minerals remain in a soluble form, while the "white room" through micro-filtration of air enables aseptic filling of fresh milk into bottles.
Fresh milk 'z bregov with 3.2 percent of milk fat is ideal meal and healthy drink for children, adolescents, pregnant women and breastfeeding mothers.
Fresh milk 'z bregov with 1.5 percent of milk fat is enriched with vitamins A, D3 and E necessary for growth, good eyesight, fertility, bone growth, calcium and phosphorus absorption, it prevents osteoporosis and rickets, metabolism of fats and vitality of the skin