Fire extinguishers with bottle CO2 – S6, S9, S50 i S100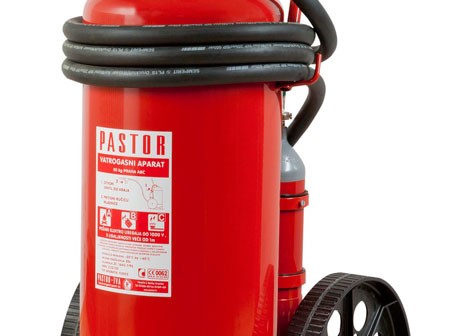 Fire extinguishers, which as a driving means use bottle of CO2, Pastor made in two forms: portable with the filling of 6, 9 and 12 kg and transport bottles with the filling of 50 and 100 kg. The system activation appliance by impact button is the fastest way of activation, with no risk of mishandling. Built-in bottle with CO2 ensures high reliability of appliance, while easily handling with the nozzle at the end of a flexible rubber hose provides a safe extinguishing of all kinds of fire.
INSTRUCTIONS FOR USE: When use it should be dragged yellow fuse and with a blow or by pressing a button on the closure put the fire extinguisher under pressure, then the appliance is ready for extinguishing.
Trigger nozzle should direct jet powder at the base of the fire, and if necessary interrupt the leakage of powder.
USE: Due to their reliability, the fire extinguishers with CO2 bottle is recommended to use in industrial plants and warehouses, residential buildings, hotels, garages, and in transport. It can be successfully used for extinguishing all kind of fires, except for burning metals and their alloys.