Transport of passengers in road traffic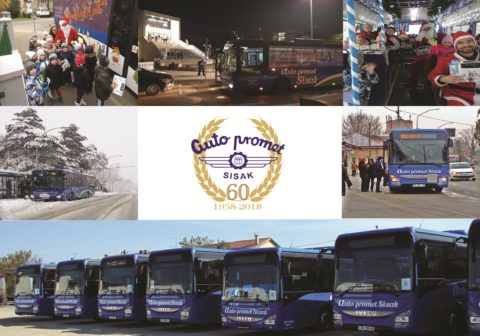 Passenger transport is carried out in accordance with the Public Service Contract, established timetable, with a total of 24 lines, 136 departures per day and 44 buses available. With the aim of improving and upgrading the business, especially when providing passenger services in public road traffic in 2017, the company has invested considerable resources in the procurement of new, more sophisticated information system of billing, control and record keeping for providing more informations, and with more detailed analysis we are able to even more approach, provide and tailor our services to our end users.
In 2018, the company celebrated 60 years of existence and by following trends of providing quality public passenger transport services, in line with the regional development plans of the area in which it operates, the expert team of Auto promet Sisak has carried out a traffic feasibility study based on which 22.792.540,00 HRK were awarded to the company from European Unioin for the purchase of 20 new buses, which will bring the existing standard to an even higher level of quality service for the transportation of passengers. Auto Traffic Sisak will then have the youngest fleet in the Republic of Croatia. This will also result in increased comfort and availability of public transport, reduced environmental impacts, increased safety and reduced operating costs.
Auto promet Sisak annually transports more than 1.500.000 passengers a year with several types of discounts tailored to the needs of different categories of citizens. With subsidies for students provided by the City, County and the Republic of Croatia, the company provides an additional 25% discount to all regular students and through donations of transport many other vulnerable groups of society. In accordance with the Decision of the City Council, in the entire city area of Sisak all pensioners, all persons over the age of 65, disabled persons and beneficiaries of social welfare use the service at a price of 3,00 HRK, and unemployed persons, blind persons and persons over the age of 65 without income, completly free of charge.