Traditional woman jacket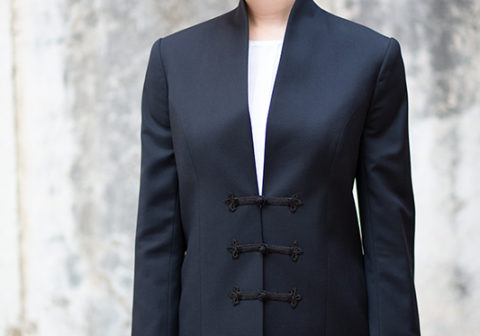 Inspired by the richness of ethnographic elements from our cultural heritage and tradition, especially inspired by the beauty and elegance of the traditional Civil women's costume of the Adriatic, I rely on the fashion of the past of individual costumes that characterize the richness of shape, color harmony and decorative refinement. Similar dresses (jackets) in shape and color were worn in Split, Pag, Coast of Dubrovnik, Konavle and Krk.
Because of the preservation of our national identity, driven by the success of traditional men's suits from the family craft "Gena" and the need of our people for the beautiful dress and following the tradition that has been there for centuries, a jacket was created as a part of suite. Its beauty is in absolute simplicity in a pure pattern's leisurely, fine details are added which enhance the whole outfit and give a personal seal of simple, elegant and beautiful dress, with full freedom of personality and therefore style.
I have modernized and refined the basic lines of a women's costume from folk costumes with hand-embroidered silk "alamari" (clips) and filigree silver buttons (botuni). Exclusively hand-made, high quality, with the highest craftsmanship in the design of which is a combination of tradition and high fashion.