Fresh Rainbow trout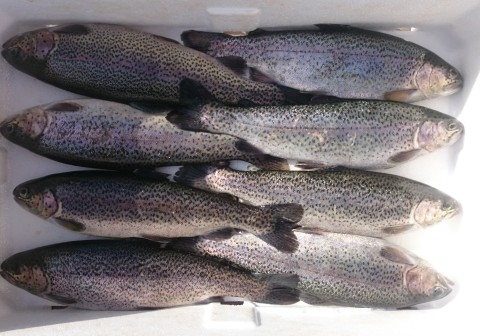 Rainbow trout originates from California, where it is possible to find several strains (migrating and non-migrating). It was first time imported in Europe in 1880 and very soon it became most popular, being bread widely and intensively, despite the fact that there is the European strain as well. The reason is the fact that American strain is far more adaptable to intensive breeding, it is far easier to feed it and the increment is much bigger.
Trout's natural habitat is mainly fast, clear and unpolluted water, which is very sensitive to all kinds of pollution. Considering that trout is exclusively a carnivore, its nutrition is consisted of any animal source food, and often it contains smaller fish of its own kind (cannibalism).
Since trout needs maximum temperature of 20 Celsius degrees, its meat is of high quality and it contains high percentage of proteins, low percentage of fat and it is very rich with vitamins and minerals.
Its significance is also in ranching open water courses which serves primary for sport fishing and recreation.
High demand for trout has been present in Europe for a very long time.