Frozen scampi from the Kvarner region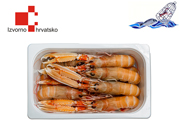 The Kvarner scampi is a famous authentic regional delicacy from the Kvarner islands and the Croatian Littoral. It became known in the second half of the 19th century by the Venetian Chioggi fishermen, who harvested it around the Kvarner islands and whose practice was later taken up by local fishermen. The scampi is maturing in shallow waters of the Kvarner sea between the islands of Krk, Cres, Lošinj, Rab and the Rijeka bay, where the sunshined depths of 60 to 80 m are suitable for the growth of rich animal and plant species. The scampi's natural habitat and its feed is thus rich in food and minerals, creating a premium scampi meat.
The RO-TRADE company has begun in 1996 the production of frozen Kvarner scampi in its manufactory for fish processing in Skrbčići on the island of Krk according to health regulations and HACCP standards. Today, the company offers a quality natural product made from the combination of tradition and the latest technological advances. It is a product without added artificial supstances, harvested by trusted local fishermen, fresly supplied to the manufactory, packaged in eco PVC packaging, deep frozen od -45 degree Celsius and vacuum sealed. The product is succesfully marketed on the EU markets, especially in Slovenia and Italy from where it distributed withing Europe. More than 95% of the frozen Kvarner scampi production is exported, the remaining is sold to respectable domestic fish restaurants.