Miklaužić Skrlet – quality wine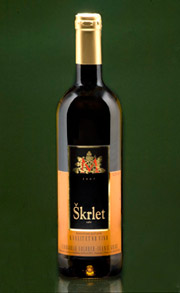 Skrlet is an unavoidable part of the story about Moslavina vineyards. It is a very rare indigenous variety which can only be found in Moslavina and Pokuplje regions and which is extremely important for the development of wine growing in this area. When it was cultivated by our ancestors, it was called "ovnek žuti", which means yellow ram, because the cluster looks like a ram's head. Clusters are loose with large gaps between berries. This gap prevents the accumulation of moisture and allows airflow between the berries, which is the reason for less frequent occurrence of diseases. Therefore, they require less pesticide treatment than other varieties. For this reason Skrlet is extremely suitable for ecological cultivation. The cluster, which is initially green, changes to yellow and finally to purple.
These clusters provide light wine of fresh fruit flavors which is very smooth and goes hand in hand with light meals. This is a very specific feature of Croatian wine growing, which was recognized even abroad and year after year more people ask for it.
Miklaužić Winery is the most famous wine producer of this indigenous wine variety, and annually it produces 22,000 liters of Skrlet wine. Their famous Skrlet wine has won numerous national and international medals and awards.