SECOSEC – coded safety seal with a protective cap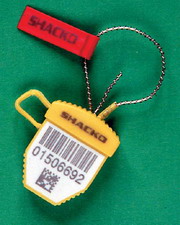 SECOSEC security system is achieved by the use of the original element – coded safety seal with a protective cap. Its purpose is immediate visual protection, supervision of the objects under protection and management of the sealed objects.
SECOSEC security system is a unique, unambiguous information element with a barcode label or a transponder, and its content is applicable on the request of the user for keeping records of application and distribution. Using handheld readers RFID or barcode, recorded data are transferred for further processing in a computer system. There are several types of SECOSEC element, depending on the model (form), color, flag, logo, or alphanumeric code, which increases the range of application information. Manual installation of SECOSEC element can be done easily without the use of auxiliary tools and the installed element cannot be opened without visible damage. SECOSEC is made of high-quality technical plastic; safety wire is corrosion resistant, while laser printer barcode labels and logos are legible, indelible and weather.