Ribanac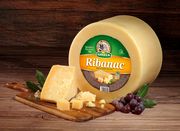 Sirela's Ribanac
Sirela's Ribanac is a superb, extra-hard cheese made from cow milk. Its main feature is long ripening – one to two years. Only then it becomes grainy, hard and brittle. Although hard, it melts in one's mouth while its aroma is full, sweet, with a pronounced fruity tinge. It takes 15 litres of top quality fresh milk to produce one kilogram of Ribanac. This cheese is the ultimate gourmet experience, whether with a glass of quality red wine or as part of a cheese platters with dried figs, raisins or nuts!
Ribanac snack cheese is already diced and ready to serve. Convenient packaging keeps it fresh even after opening. It is the ideal choice when you wish to impress your guests with a superb delicacy or you feel like having a snack of tasty cheese for better sleep! Freshly grated Ribanac is nutritionally of high-quality and makes a tasty addition to many dishes – from soups and noodles to meat and sauces. The distinctive aroma of freshly grated Ribanac is the final note of every meal.
Ribanac is available in 250 g and 15 kg packagings, Ribanac snack in 180 g packaging, while freshly grated Ribanac is available in 40 g, 100 g and 1 kg packagings.
Ribanac proudly bears the "Croatian Quality" label.
www.dukat.hr/hr/proizvodi/sirela/ribanac
dukat-info@dukat.hr