Single wing window in PVC and single wing window in ALU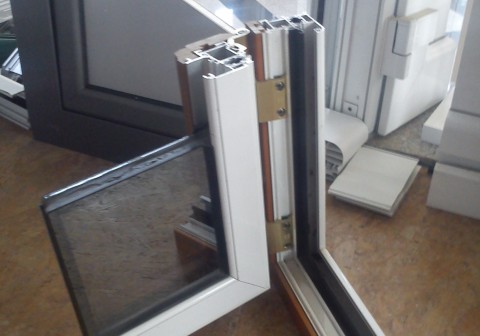 In the standard offer is five chamber profile with three seals. Profile jamb as well as a wing profile, is strengthened with the profile – the core of galvanized steel profile and wall thickness is adapted to the dimensions of the walls, windows or doors.
The colour palette ranges from white to multicoloured and structural imitation of wood (from exotic, hard and soft wood) resistant to UV rays. The tread design is contemporary with the "soft" and rounded corners. With these profiles, the company offers the production of ESLINGER shutters with aluminium or plastic lamellas with outside and inside box, and all types of shutters with fixed and mobile lamellas.
Aluminium carpentry has a number of advantages. It is a good and stable, solid and durable, lightweight (lighter than PVC carpentry) and fully corrosion resistant. It provides substantial savings of thermal energy, providing superior sound insulation, and thanks to the exceptionally smooth surface, it is easy and quick to maintain. It is also environmentally friendly because it is a material of natural origin that can be recycled.
Aluminium carpentry is suitable for all types of business and residential buildings. Aluminium profiles Metal Beneton embellish home by giving it the necessary dose of luxury, but also provide sophisticated look to facade.