Upholstered sofa sets made of solid wood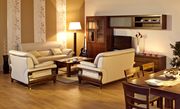 Upholstered sofa sets Nicolle, Matea, Skalinada, Grizzly, Monaco, Dorado and Lena as well as upholstered corner sofa sets Marengo corner, Angelina corner and Nensi corner stand out in the quality of their design which is always stylish.
Sofa sets are made of solid Slavonian oak, specially treated with the finest machinery, while the anatomically shaped seat and back cushions are upholstered in top quality leather or fabric. Spin Valis upholstered sofa sets will enrich every space with its quality, design and comfort.