Premijer white crystal sugar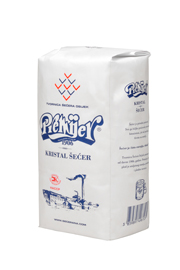 White crystal sugar "Premier" is produced by refining the sugar beet and refining raw sugar cane of high polarization.
"Premijer" refined sugar meets the following conditions:
– Sugar is completely of white color;
– Sugar contains at least 99.80 percent pure of sucrose (measured with polarimeter);
– Sugar contains no more than 0.08 percent of water;
– It contains no more than 0.02 percent of ash;
– The color of extinction by Lange is max. 0,050;
– There are no mechanical impurities and means for bleaching and dyeing;
– It contains no more than 0.05 percent of invert sugar;
Aqueous solution of sugar is clear, tastes sweet and has no precipitate, and the reaction to litmus is neutral.
Packaging:  paper bags of 1 kg, paper bags of 50 kg and polypropylene bags of 1,000 kg and 1,200 kg.