Podravka Beef Goulash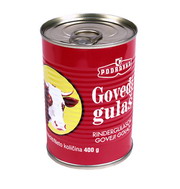 Podravka Beef Goulash is a premium product of characteristic flavour and standard quality. The excellence of taste and high quality of Podravka Beef Goulash has been confirmed by consumers in some twenty markets worldwide where this product has been present for more than 50 years.
Beef Goulash is a member of Podravka's group of products with the longest tradition, and thanks to its quality, recognizable design and excellent taste, it has become one of the best-selling products throughout the entire region of South-eastern Europe, and a leading product in the markets of Croatia, Bosnia and Herzegovina, Macedonia and Kosovo.