Flat-plate solar collector SKT 100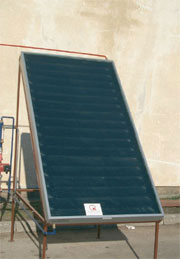 The collector of solar radiation type SKT-100 level is a flat-plate collector which receives and transforms the sun's heat. It is used primarily in systems for domestic water heating, swimming pool water and central heating systems. The collector is a genuine domestic product.
The collector's dimensions are 1964 x 1034 x 86 mm. The casing is made of aluminum anodized profiles that are coated with thermal insulation – stone wool. The insulation is covered with absorber made of copper sheet and copper tubes, and everything is enclosed by tempered glass. The mass of the collector is 49 kg, and temperature resistance is from -60 to 250 ° C. More than 25,000 of Tehnomont's collectors have been installed in the last 28 years.