Pistol – HS, XD, XDM, XDS, XDE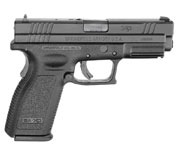 Pistol XD (Xtreme Duty) is a result of year-long work and development on the basis of own expertise and currently it is being distributed mostly in the American market.  Alternative version of the pistol for inland market and market outside the USA bears a mark HS 2000. In inland market it is foremost being sold for official and sports purposes or to security services.
Currently more than 40 pistol models caliber 9 mm, 40S&W, 357 SIG, 45 etc. are being produced. Each of them is available in short, standard or long version with polimer grip in several colours. The proof of quality is the title of the "Gun of the year 2002" which we were awarded by specialized magazines such as Handgunner, Guns, Guns&Ammo. It was also proclaimed as the best gun in 2003 by NRA – National Rifle Association, which is the most prestigious award for the quality of the pistol in the USA and in the world.