Pelinkovac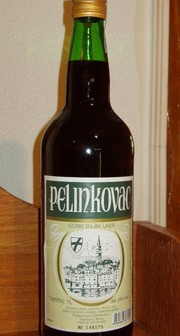 Pelinkovac of Darna Ltd., also affectionately called the 'Pelinovac of Rovinj' 'is distinguished by its quality, special rich, bitter taste and a strong fragrance characteristic of wormwood. Produced in accordance with traditional recipes passed down from the first owner of liqueur factory Giorgio Benussi, it is a proof of tradition inherent in the modern times.
Natural flavour is obtained by caramelization of sugar in special copper kettles, and what is particularly specific for this product is that it is left to mature in Slavonian oak barrels which gives it a special flavour and fragrance, making it more tended than the one produced industrially, due to a longer technological process. In the production of our product, special emphasis is placed on product quality, as evident from various awards and accolades and its recognisability in the market.
Pelinkovac is derived from the essence of wormwood and other additives, making it an excellent digestive.
Our Pelinkovac is appropriate in every situation as an aperitif; it can be consumed in its original flavour, chilled or as addition to refreshing "long" drinks. We recommend to try it with tonic.
The alcohol volume of Pelinkovac liqueur is 28 percent.
Filled in the packaging of 1.0, 0.7, 0.2 litres and a variety of gift packagings: Roženica Pelinkovac 0.1 l, Val Pelinkovac 0,2 l, Srce Pelinkovac 0.5 l and 0.04 l, Val Pelinkovac 0.2 and 0.04 l, Balon Pelinkovac 0,1 l, Violina Pelinkovac 0,04 l, Mandolina Pelinkovac 0,04 l, Amfora Pelinkovac 0,04 l.