Pag Cheese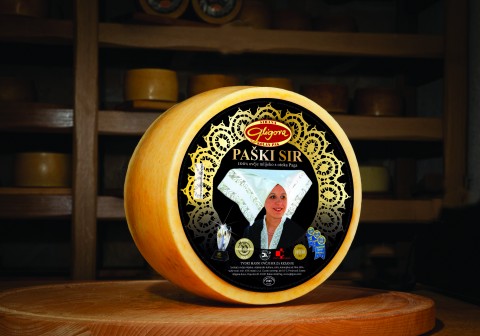 Pag Cheese was made exclusively from the milk of local indigenous breeds of Pag sheep. The sheep on the island graze freely on the pastures that are rich in aromatic plants. The reason for this is a particular microclimate with a very important element, the Pag Bura, a wind which carries the sea salt around the meadows. Pag Cheese in the Gligora Dairy Ltd. is produced in a traditional way with the use of modern cheese making knowledge.
Mature Pag Cheese, which is older than five months, has its own unique spicy flavor and peculiar smell; the pastry dough of the cheese is slightly marbled and grained, and it crumbles and melts in your mouth. It is a round shaped cheese, weighs about two kilograms and has a solid golden yellow crust.
Pag Cheese produced in the Gligora Dairy Ltd. has won numerous national and international awards, i.e. first place award in the category of sheep milk cheese at the fair in Castegnato in Italy, two golden medals – at AGRA Fair in Slovenia and at the Novi Sad Fair, and a multiple champion at the Zagreb Fair. Another evidence of the quality and originality of Pag Cheese production is the permission issued by the European Union to Gligora Dairy Ltd. which allows export to EU member states. Every cheese from Kolan produced in Gligora Dairy Ltd. has 'Gligora' written on its label which guarantees quality derived from family tradition and experience.