Orljava Luxury: Galaxy, Ramses, Apollo, Charles, Luxury and Henry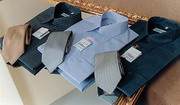 Each product from the program Luxury by function and design is intended for dynamic business activity. What distinguishes this from other shirt is imported fabrics made from the finest Egyptian cotton and refined anti-crease which enables very easy maintenance. Luxury shirts are always made from 100% cotton, can be, but do not need ironing. However, light ironing is achieved particularly beautiful shine fabric. These fabrics have an eco-label "Öko-Tex Standard 100", which is directly related to the aspect of human ecology, and indirectly, including environmental characteristics of the development and refinement.
Special attention is given to the choice of auxiliary material for making shirts that must conform to the most demanding quality and environmental standards. Frequent quality control of production results in a product of superior quality. Only for Luxury shirt is guaranteed six months of steady quality because we consider it above average quality product.