Melem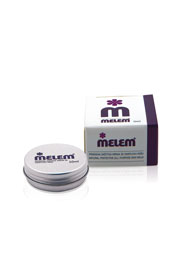 Melem is natural protective cream for sensitive skin. Daily use of Melem provides hydration, nourishment and protection from external influences. Melem preventively and intensively nurtures and improves general skin condition, while restoring its original softness and resilience. It also creates a protective layer on top of the skin, which prevents it from cracking, while reducing difficulties associated with skin problems.
Area of Melem application is very wide. Melem protects from wind, cold, sun and dry air, also when spending time in nature and doing sports. It helps with problems related to skin irritations and redness, while reducing roughness of all types of dry, hard and calloused skin.
Melem is especially convenient for pregnant women, but also for nursing mothers because it helps prevent the appearence of stretch marks and soothes cracked nipples. At the same time it represents an ideal cream for nourishment of children's skin because of its beneficial, soothing and intensive regenerating effect.
Melem is produced by the integrated norm ISO 9001/14001. It is dermatologically tested, which does not contain any alcohol, preservatives, silicons, corticosteroids or antibiotics. It`s not tested on animals.
Melem is authentic Croatian cream based on an original recipe which has received a number of prizes for its innovation and quality, such as: Golden medal at the largest US exhibition of novelties -INPEX 1999. in Pittsburgh; first prize of Tourist Board of Zagreb for the best souvenir in 2000. and recognition for the best Croatian brand Superbrands 2006/07.