Marko Polo – extra virgin olive oil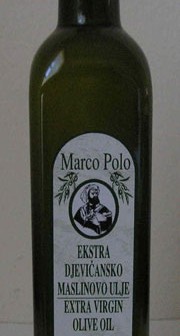 The production of olive oil in Blato 1902 Inc. began in the middle of last century and was perfected for years pursuant to new production technologies.
Marko Polo extra virgin olive oil is obtained directly from the fruit of olive exclusively by mechanical procedures, from selected sorts of olives from the Western part of the island of Korčula: lastovka, drobnica and oblica in proportions in which a recognisable scent, taste and colour are obtained. Specificities of Marko Polo extra virgin olive oil are: prominent fruity taste, mild piquant and moderate bitterness. The largest part of oil is obtained from the lastovka sort which is rich in polyphenols which are known to be good antioxidants which protect oils from auto-oxidation modifications i.e. early aging and staleness.
It is produced in several packages for both local and foreign market which can recognise quality Croatian product.