Margo (Nova, Yogurt, Balance)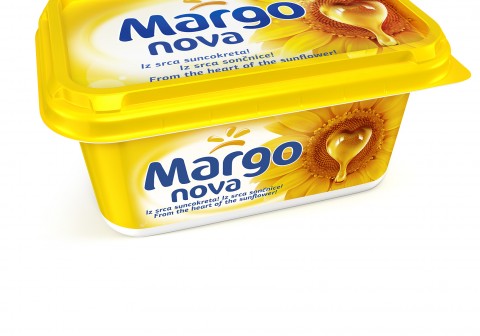 Margarines of new generation Margo Nova, Margo Yoghurt, Margo Balance are spreads of superior quality and taste, necessary for a healthy and balanced diet and a good physical form of the entire family. Enriched with vitamins A, D and E, without any cholesterol or trans-fatty acids, they are an excellent source of energy for every day.
In recent years, the role of fat in the diet caused many discussions and difference of opinions. Generally, fats are a rich source of energy necessary for growth and development, brain function, and thus the whole organism. They dissolve vitamins A, D, E and K, therefore an insufficient intake of fats may cause lack of the mentioned vitamins.
A balanced diet should contain about 30 percent of fat, 20 to 35 percent of proteins and 45-65 percent of carbohydrates rich in fiber. Children and young people, especially adolescents, need to increase their intake of fat up to 35 percent.
Margo spreadable margarines were created because of listening to the customers' requirements, different tastes, and individual nutritional needs for different proportions of fat and as a positive response to the fast and stressful life.