Ball valves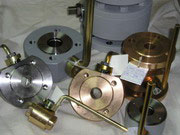 The company OMV valve produces four basic types of ball valves: wafer, lug, type of flanged and threaded, and according to customer demand also a special non-standard performance.
Housings and connectors ball valves are made from carbon steel, stainless steel or bronze. The range of sizes goes from DN15 to DN200. Maximum operating pressure is 160 bar and the maximum operating temperature is 200 degrees Celsius.
Other characteristics of their ball valves among others are "anti blow-out system", "fire safe design", "antistatic design" low resistance of flowing to media and installation of various types of "actuators". The ball valves of OMV-valve company are designed and approved for various types of media such as water, sea water, fuel, oil, various corrosive media, gas, liquefied petroleum gas.