Classical and medical beds – mattresses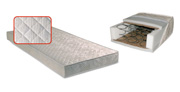 Classical – Stabila and Compakta
Medical – Luxima, Siesta, Superlux
Classical mattresses have a built in Bonnell spring core 2.2 or 2.4 mm thick, while medical mattresses have a pocket core whose string are enveloped in pockets from raw cotton fabric or lutrasil. Individual adjustment to body of the sleeper classify it to mattresses with pocket core in the line of medical mattresses.
Various types of cores which make the basis of mattress are coated with various natural or artistic materials which increase the comfort of mattress and in their combination with a quality core, it makes a high quality mattress appropriate for everybody.
It notably has to be taken into account that some people prefer softer and others prefer harder mattress, so the selection of mattress is a completely individual. When choosing a mattress, it is best to search for an expert advice or a specialist from various areas and it is recommended to try lying down on the mattress before making the final decision.