Kalnička fizzy natural mineral water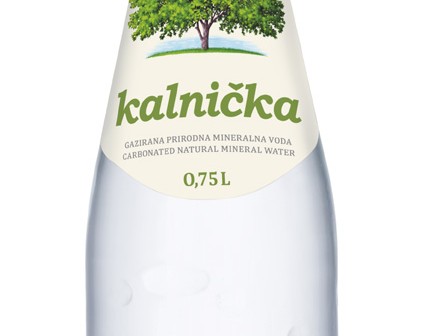 Kalnička is a fizzy natural mineral water which quenches thirst in a best way and it is a healthy fizzy refreshing drink from Kalnik springs. It is a refreshing drink which, during hot weather and during physical activities, replaces lost minerals, especially calcium and magnesium. If you are worried about the content of natrium and chloride in mineral water, as there intake is related to increased risk of high blood pressure, you do not need to worry. Natrium in Kala and Kalnička is in the form of sodium-hydrocarbonate which does not have such an effect. Modern science provided evidence according to which consuming sodium-hydrogen-carbonate natural mineral water may be useful in prevention of diseases of vascular system. One litre of fizzy drink rich in sodium and hydrogen carbonates, such as Kalnička mineral water, has a positive effect on reducing cholesterol levels in blood. Do not forget that daily drinking of water has numerous benefits for the body. It aids, in a completely natural way, to release toxic substances, it regulates acid-basal balance, and at the same time, it enriches your organism with necessary minerals and hydrates it.
Reach every day for a bottle of natural mineral water of Kalnička and provide your organism with freshness and health. Natural mineral water of Kalnik is an ideal solution for refreshment of organism whole day round.
Kalnička – water with a story!