Kala – natural spring water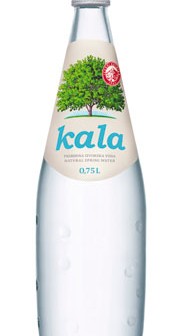 We all know that humans are made of water. We also know that without water, there is no life and in today's condition of fast and stressful life, we often forget to drink water. We forget how necessary it its to preserve our health and for normal functioning of all organs and our life potential.
We are extremely pleased to represent a new trademark of water drinks – natural spring water Kala. The naturalness and the quality are main characteristics of our new trade mark and will surely find its way to numerous amateurs of pure spring water.
Kala – natural spring water comes from intact and pure nature of Kalnik, rich with forests, protected from external influences and contamination. Kala gives the best of what nature has created in Kalnik: a unique taste of freshness and health.
Benefits of natural spring water Kala:
Stress, physical activity and bad habits such as cigarettes and alcohol are just a few factors which largely contribute to lack of important minerals such as calcium and magnesium, and our every day nutrition often lacks foodstuffs rich in these minerals. Therefore, it is difficult to satisfy these requirements with our usual diet. For this reason, the World Health Organisation increasingly emphasises the importance and the role of calcium and magnesium in waters. Kala is rich in calcium and magnesium which gives it a taste of freshness and health.
Natural spring water Kala is an ideal solution for refreshment of organism during entire day.
Kala – water with a story!