Holcim Agrocal® granule i prah, Holcim Inducal® agregati raznih frakcija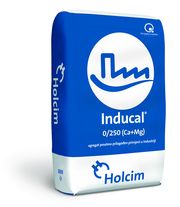 Holcim Agrocal® granules and dust, terra plus, Holcim Inducal® different aggregates size fractions
Holcim Agrocal® terra plus (Ca+Mg) is a natural source of Calcium for achieving optimal calcification and increasing the fertility of acidic and very acidic soils.
Holcim Agrocal® (Ca+Mg) granules and dust are a natural source of Calcium and Magnesium for improvement of acidic soils.
According to physical characteristics of Holcim Agrocal® products, activation will be slowed and last from a few months to a few years. The melioration, depending on the quantity and type of product, soil characteristics, agricultural and ecological conditions and production intensity will last for years.
Advantages of using Holcim Agrocal® products:
increase in soil water retention
reduction in soil acidity
improvement of soil friability
enabling of microelements' absorption
increase in yield
.
The products are ecologically completely acceptable for regular and organic agriculture.
Holcim Inducal® aggregate is specifically fitted to be applied in industry. It is used as a filler or functional additive in industrial process whereby the characteristics of the raw material as well as Holcim's continuous quality control process enable standardized quality.
It finds its application in various branches of industry: production of glass, glue industry, colour and varnish manufacturing, production of glass wool, ceramics, construction chemicals, cosmetics, paper and plastics, floor coverings and similar.