GROF real home-made ham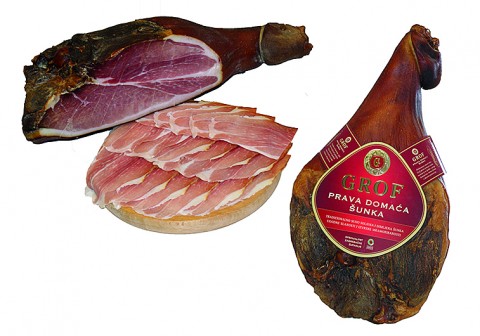 Home-made smoked ham is a product gained by processing of quality pork ham through processes of salting, smoke-drying and ripening. On the exterior side, the ham is covered by skin, and a part consists of pure muscles with visible femur joint cup. On the finished product the skin is dry, and its colour ranges from light to dark brown. In a cross-view the muscles are slightly fat-infused and the colour of meat can range from light to dark red which depends on the breed and the way of feeding.
For the production of such a product, quality raw material, controlled process related parameters and each step in the production are important. By their combining and securing sanitary measures a product is produced which meets all the quality standards and by fullness of its flavour provides exquisite gourmet delight.