Fresh fish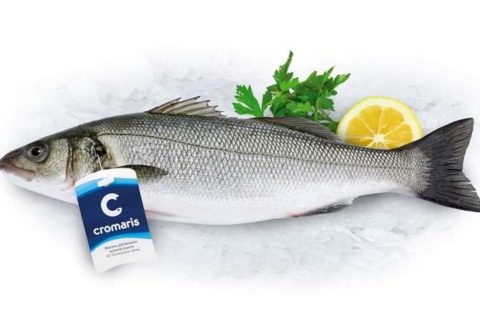 Cromaris' fish offer fundamentally consists of three autochthonous types of the finest whitefish – gilt-head bream (Lat. Sparus aurata), sea bass (Lat. Dicentrarchus labrax) and meagre (Lat. Argyrosomus regius) – as well as their processed products that make it easier for consumers to purchase and prepare fish. The Cromaris sea bass, gilt-head bream and meagre are farmed in the Adriatic Sea. All Cromaris products feature exquisite freshness. They do not contain any preservatives or GMO ingredients.
Apart from the basic range of fresh ungutted and gutted fish, the Cromaris fish offer also includes the following:
Filleted fish – an ideal choice for a quick, simple and creative preparation of the finest whitefish Apart from sea bass, gilt-head bream and meagre fillets, Cromaris also offers meagre steaks.
Organic fish (fresh, gutted and packed in MAP) – In the beautiful scenery of the fish reserve in the Lim Bay waters, Cromaris farms organic sea bass and gilt-head bream according to strict environmental standards based on which it has been awarded the following European organic production certificates: EU organic, AB, Bio Siegel, and Naturland. The organic fish production at Cromaris is based on fish feed produced by using sustainable raw materials obtained from plants and fish (with no GMO ingredients), fish farming in cages of reduced stocking density, and the use of feed with reduced fat content. Organic fish is also available in MAP (gutted).
Fresh gutted fish, fillets and steaks packed in MAP – modified atmosphere packaging (MAP) not only increases the availability of the product for consumers, but also presents a traditional product to the market in a completely new form, with a modern and informative packaging design. This packaging method preserves the freshness and quality of fish for up to 14 days. Gutted fish is an ideal choice for a quick and simple preparation of nutrient-rich dishes.
FRESH FISH – CONVENTIONAL
Adriatic sea bass
Adriatic sea bream
Kornati meagre
Fresh sea bass fillets
Fresh sea bream fillets
Fresh meagre fillets
Fresh meagre steaks
FRESH FISH – ORGANIC FISH
Organic sea bass
Organic sea bream
Packed, fresh, gutted organically farmed sea bass
Packed, fresh, gutted organically farmed sea bream
FRESH FISH – PACKED FISH
Packed, fresh, gutted sea bass
Packed, fresh, gutted sea bream
Packed, fresh, gutted sea bass and sea bream
Packed fresh sea bass fillets
Packed fresh sea bream fillets
Packed fresh meagre fillets
Packed fresh meagre slices