Extra virgin olive oil Vergal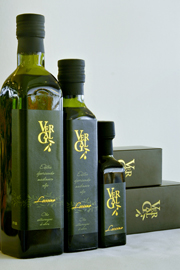 The inhabitants of Novigrad used the name Vergal for an old spring-creek. As it used to stand for health, purity and life, arising from the intact depths of the ground, Vergal is still alive, with the same originality and strength in the form of olive oil from own production of Laguna Novigrad which has for nine years cultivated the varities frantoio, leccino and istarska bjelica, which yield around 3 500 liters of oil annualy. From each variety, oil of unique flavour and aroma is produced.
Leccino is a variety originating from Italy which is today most present in Croatia. The oil made from it has an extra quality, pronounced fresh scent and fruity taste of olive, mild bitternes and spicy taste. It goes perfectly with fish, scampi and shrimps, grilled squids or cuttlefish and various salads.
Frantoio is a variety which originates from Italy and which is often found in Croatian olive groves. Positive characteristics of this olive oil are very compatible, and flavour is extremely spicy and bitter. This oil is the best addition to foods of intense taste and scent such as beefsteaks, truffles, game and ripened cheeses.
Istarska bjelica originates from the northern part of Istrian peninsula. It is present in almost all older olive groves in Istria. Its oil is of high quality. Its scent reminds of freshly mowen grass, it is of pronounced bitterness and elegant spicy taste which undermine all other positive characteristics of this oil.
The olives are harvested manually and mechanically, and the harvest can start when two thirds of the fruit change the colour of cuticle (the fruit is around 50 percent ripe when it gets a dark green colour). After harvesting, the fruit is in the shortest period possible transported to the oil refinery for processing. Olive fruit is processed by centrifugation or by a process called "first cold-pressed" at the temperature from 25 to 27 °C. Such gained olive oil is filled into inox barrels where in air-conditioned cellars it is kept at the temperature of 17 °C.