Divine Parquet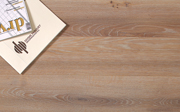 Massive classic oak parquet
Michelangelo solid parquet is made from the best raw oak wood in dimensions ranging from 250mm to 1200mm, with the width of 40 to 90 mm and thickness of 14 and 21mm.
Its dimensions are ideal for all combinations and methods of laying the floor and its dimensional stability ensures the quality and durability of flooring.
The interplay of texture and imperfections, created by nature throughout years, make it fit perfectly into most modern rooms with simple lines (first class), but also in spaces of rustic decoration which require a more rustic texture (lower classes).
Massive classic ash parquet
Van Gogh parquet is manufactured from the highest quality raw ash in sizes ranging from 250 mm to 1200 mm, with the width of 40 to 90 mm and thickness of 14 and 21 mm.
Ash parquet is specific for its bright colour and is ideal for smaller spaces that need more light, but also for larger spaces that are decorated in brighter tones. A wide range of sizes and colours allow a variety of combinations, and it is possible to combine a bright surface of simple textures and colours (first class), but also a more colourful surface (lower classes) which reveals its natural origin through the colours.
Rustic oak floor
Made from the highest quality raw oak wood, it brings the feeling and magic of nature into any home. Available in sizes from 600 to 2200 mm, widths from 120 to 200 mm and thickness of 15 and 20.4 mm. Its large size in space gives the impression of naturalness and rusticity which we could have witnessed in the houses of our ancestors.