Chimneys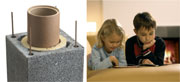 SchiedelGolubovec manufactures universal chimney systems for specific types of furnaces and burning materials. The systems' attributes are a very high tolerance of temperature osciliations, and a strong resistance to flue gas condensation. Systems are variant according to the furnace and burning material type. They have universal appliance with high and low temperatures and dry and moist occurences.
System types: SIH, UNI plus, QUADRO, MULTI, AVANT, ABSOLUT, TMPD, VEM-do, KERASTAR, ADW
Chimney systems are according to HRN EN chimney regulations, on account of which they are certified by regulatory agencies and CE approved.