Colmix – aggregate mixture for the production of concrete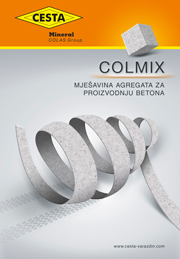 Colmix is a special mix of gravel aggregates for the production of concrete, specially designed according to customer requirements.
Colmix can be ordered according to the already devised and certified formulation used by most customers, but the customers can also specify the quantity of certain fractions of aggregates and Colmix according to their needs. In the production of Colmix, high-quality machines are used that are computer-controlled so as to minimize the likelihood of deviations from specified formulations.
Using Colmix lowers handling costs, inventory and transportation costs, and it is ideal for the production of concrete at mobile concrete plants, because it requires much less space (max. two feeder cages suffice to produce concrete). The entire process of producing and loading Colmix is electric powered and Colmix is produced in an environmentally friendly way.