Colafrez – reclaimed asphalt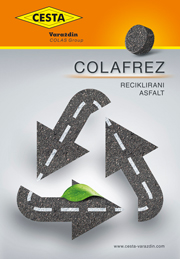 Colafrez is a bituminous aggregate mix (asphalt) consisting of reclaimed asphalt aggregates, filler and bitumen. What sets it apart from conventional bitumen mixtures (asphalt) is the addition of reclaimed asphalt aggregates.
Reclaimed asphalt aggregates include aggregates wrapped in bitumen obtained by milling asphalt layers and adding the remaining or excess asphalt from production or paving. The addition of this aggregate rounds up the cycle of application and production of bituminous mixtures, and there is never a waste because everything is coming back into production. This means that with the technological processes of Colafrez we are meeting the EU requirement on mandatory recycling of at least 70% of construction and demolition waste by 2020.
The benefits of using Colafrez are clearly the economic considerations, the preservation of natural resources (avoiding excessive exploitation of mineral resources and reducing consumption of new bitumen) and the environmental protection. Colafrez is used to conserve natural resources and reduce the amount of CO2 in the production. In terms of quality, it meets all technical regulations and standards relating to bituminous mixtures.