COLAFREZ – CWM cold weather bituminous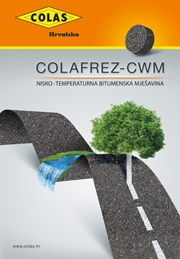 Colafrez-CWM is made from reclaimed asphalt aggregate (reclaimed asphalt from milling asphalt layers, crushing asphalt slabs or pieces of slabs taken from the asphalt pavement of the road base, remaining or excess asphalt from production) and by adding additives to CWM bitumen (chemorana).
Using reclaimed asphalt aggregate i.e. producing Colafrez-CWM reduces the use of new bitumen and stone material in the asphalt. The same quality of the product is retained as in conventional asphalt, and Colafrez-CWM enables 30-40°C lower production and application temperature.
CWM is a mixture of surfactants and it is used as an additive for bitumen, achieving such bituminous mixture adhesion as to lower the production and application temperature by 30°C to 40°C compared to the standard method.
A very important thing is 20 percent energy saving plus 30 percent reduction in CO2 emissions, which reduces the overall negative impact on the environment and human health.
Colafrez-CWM can even be installed at temperatures lower than -0°C.