Caprilo – soft fat cheese made from goat's milk with mold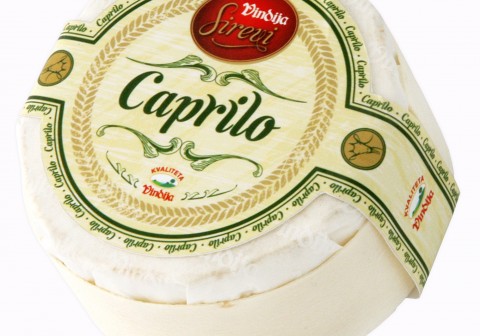 This soft cheese made from goat's milk cheese with a noble white mold is of mild flavor and aroma which reminds us of white button mushrooms. Snow-white mold on the surface gives it a special visual charm and an irresistible taste and smell. Because of longer ripening, the pastry dough starts spilling from the inside to the surface, and the flavor is slightly piquant, which is an extremely desirable characteristic for true gourmands and connoisseurs of cheese. It is an excellent ingredient of cheese platters, addition to various foods, especially meat steaks, tasty main dish (fried or breaded cheese), side dish, appetizer or a treat at the end of the meal.
It won the gold medal at the World Cheese Awards in 2000 in London. Caprilo is a pride of Vindija's cheese producers and Croatian cheese of world quality.
One piece of cheese weighs about 100 grams.