Ship sunblinds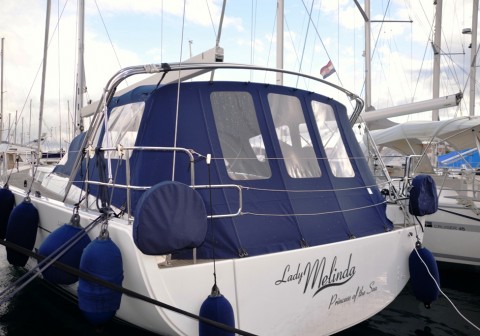 In cooperation with our clients, we come to optimum resolutions where a final version of the product satisfies both us as manufacturers, as well as clients as the end user.
SHIP SUNBLINDS AND COVERS do not need only look nice, but also to protect a ship from salt, sun, undesirable views or any other external influence.
There are various models of ship sunblinds and covers, bimini top, sprayhood, convertible sunblind, cockpit sunblind, fly sunblind etc. All products are custom made – made manually by order. Wishes of our clients are always in the first place and we always complement them by quality technical solutions, and finally end up with a top product and a satisfied client, which is our best promotion.
Our production uses modern materials manufactured with special protections and properties for extreme summer and winter conditions at sea, by reputed world manufacturers, such as acrylic fabric and PVC produced by nano-top technology with a 3-year, 5-year and 10-year guarantee.
All additions in the manufacturing process are intended for extreme summer and winter conditions at sea: thread, zip fasteners, inox, various buckles etc.
Special care is taken of our post-sale process where each client is treated individually through services of control, maintenance and warehousing our products in special conditions.
Our long-term experience and a unique concept of complete service in the production of ship sunblinds is coupled with our design, technical solution, guarantee and top materials, giving a unique and recognisable product and services.