Benedicta Terra Dalmatia – extra virgin olive oil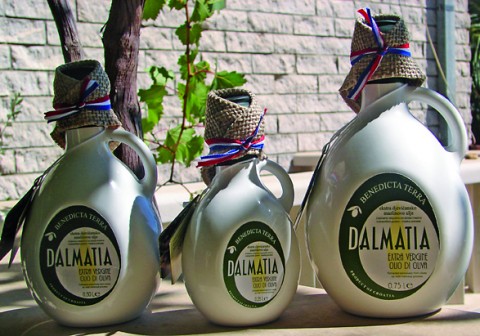 Benedicta Terra Dalmatia is a top product of extra-virgin olive oil and is a confirmation that only man in cooperation with the nature can reach desired goals. The idea and the product were created in 2007. The appearance of the bottle fuses the fruit of olive with traditional Dalmatian outfit, while tricolour flag is a symbol of Croatia, recognisable everywhere in the world. The bottle of the product is made of enamel glass which ensures the durability of top quality of extra-virgin oil, considering that the quality may only be preserved without the contact with light and other external factors. Top design was recognised in 2009 in Noćnjak when the product became the champion for olive oil packaging. The oil owes its great quality to great care of each fruit of olive which is used for the product. Each olive is picked by hand and is processed the same day so as to preserve its quality. The trade owes approximately 1000 olive trees and has about 3000 subcontractors.
 The quality of oil is confirmed by numerous awards and recognitions: Golden medal at Maslina in 2006 and 2011; Golden medal in 2009 at Eco World Fest; bronze medal for quality in Noćnjak in 2010; Golden medal for high quality of extra virgin olive oil in 2011 in Novi Sad and other. The product is composed of three packages: 0.25 l, 0.5 l  and 0.75 l and each of the packages is being exported to many countries such as USA, China, Japan, Austria and others.