Baskot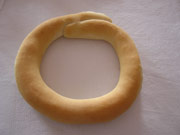 Baskot is a traditional bakery product typical with round (annular) shape and specific taste, which is producing more than a century along the Adriatic coast, especially in the coastal areas and coastal hinterland, and is also called the bucolaj or cake.
On cakavian dialect baskot means annular rusk, and for its purposes it was called also the sailor bread. Name sailor bread comes from a time of sailing ships when the possibility of cooking and baking on ships and fishing boats was limited. The annular shape allows it to bind to the rope and was kept hung on the beam of the ship where billowing of the ship did not mind. Because of its dryness it could last up to six months and it was very convenient for food on long trips, and it was eaten with all fluids available on board (tea, wine, water). The quality of baskot was evaluated so that baskot left from a certain height to fall down and breaks it. Baskot that broke into several pieces was better.
Baskot in the bakery craft "Sveti Kuzam" is produced by the proper carefully guarded recipe and in the same way since 1968 and it can be hard and soft. Each baskot has not this perfect annular shape because it is made by a man, not a machine, but it is for the same reason, perfect, with unchanged flavour. It is made with love and warmth of touch to enjoy the taste.